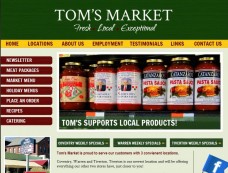 » Tom's Market's home page
» Visit the website.
(COVENTRY, RI – June 10, 2012) If you live in or around Rhode Island, chances are you already know about Tom's Market and Tom's Market Catering. Their three convenient grocery market locations carry only the finest groceries, fresh cut meats, seafood, and produce; which led to Tom's Market selection by Rhode Island Monthly's as Best of Rhode Island. Tom's Market's passion for quality can also be found in their catering business which offers unparalleled professionalism and style from conceptualization to completion. Tom's Market Catering is the preferred caterer for weddings, corporate functions, and events throughout Rhode Island.
Two Distinct Brands
The Tom's Market website welcomes visitors with a range of bright colors that compliment the beautiful images of the fresh foods they carry. As visitors continue to browse through the website, they can view the weekly specials at all three locations, peruse through the various menus, and even place orders online.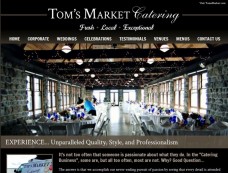 » Tom's Market Catering's home page
» Visit the website.
Palm Tree was asked to handle the task of designing websites for each of the respective divisions – Tom's Market and Tom's Market Catering. It was important to the owners that each of the websites was recognizable as part of the same brand yet distinct in their appearance. Palm Tree was able to achieve this by using common elements such as overall layout, typefaces, while using different color palettes and imagery to set them apart from one another. The end result is two uniquely striking websites that both exemplify the Tom's Market brand.
Content Management Made Easy
Few website management platforms give a client the ability to maintain two distinct websites. But with the GoSystem platform at the helm, staff at Tom's Market can maintain both websites from the same administrative panel. Staff at Tom's Market Catering have custom-tailored apps that give them the ability to easily add images to the galleries on the corporate, weddings, and celebrations' pages, manage event venues, customer testimonials, their expansive catering menus, receive online orders, send email blasts and much more.
Google Relevancy
Google is doing a great job indexing the internet and determining relevancy through 200+ signals, that allow them to lead a person to what they are trying to find. As of June 1st, Google is indexing 275+ pages from Tom's Market. What you are seeing in the search results in blue, green, and black text are 3 of those signals - right in the public view. Palm Tree, an agency providing web solutions in Connecticut and beyond, designs and programs client websites to be easy to understand, intuitive to navigate, and as relevant as possible. Palm Tree's GoSystems technology produces relevant title tags, URL strings, and description tags - and allows clients including Tom's Market to tweak these crucial signals on their own.
Cleaning up a Google Index
Since this was a website re-design, an important step in the process was to create and implement a list of permenant 301 redirects to send visitors from the URLs of the old site to the corresponding page locations on the new site.These protect Tom's against 404 errors from sites that link to pages at Tom's Market old site. Also, 301 redirects alert search engines that they can stop indexing the old URL and update their results with the new ones.
Screenshot showing how many people Tom's Market reached in 1 month
Tom's Market is able to review his Google Analytics within a clean integrated interface within the GoSystem platform.
The result – Client satisfaction
"In the past, we solely relied on referral business and were fortunate to be very successful by providing quality products and service," states Tom's Market's owners. "However, we realized that with an outdated web presence, we were missing out on an entire segment of potential customers for both our markets and catering businesses. Palm Tree has helped us tap into that market with the incredible websites they designed for us and it has already led to new sales!"
To find the nearest Tom's Market location or browse the amazing groceries they carry we encourage you to visit www.tomsmarket.com. Or why not take a moment to learn about their top-rated catering at www.tomsmarketcatering.com.