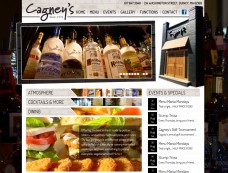 » Cagney's Pub's home page
» Visit the website.
(QUINCY, MA - May 16, 2012) Since 1991, Cagney's Pub has been a favorite among the residents of Quincy, MA. At Cagney's, guests can relax at one of two bars where they can enjoy a tasty beverage like the Yummy Gummy Martini or choose from their diverse selection of over 40 domestic, imported and craft beers. If you are looking to grab a bite to eat, Cagney's has a delicious menu of freshly made items like their signature gorgonzola smothered potato chips. They also offer a private function room that is perfect for parties of 25 to 75 guests, complete with a dance floor and full bar.
Concept and Design
When Cagney's approached Connecticut-based branding and web design firm, Palm Tree, they wanted a website that captured the atmosphere of their pub while providing visitors with all the information they could possibly want to know about Cagney's. In the fast paced food industry, spare time is virtually nonexistent so it was equally important that their new website be simple and efficient to maintain.
Armed with an arsenal of great photography, Palm Tree's resident Art Director, Spencer Mahar, created an exciting front-end design that utilized textures of brick like those that can be found on the facade of their building and a mostly grayscale color palette that really allows the bright, crisp images of the Cagney's food, drinks and patrons to stand out.
The Simplicity of the GoSystem
When it comes to managing their new website, Cagney's has it easy due to the fact that is powered by Palm Tree's state-of-the-art GoSystem platform. The GoSystem is packed with apps specifically designed to make managing the Cagney's website a breeze. Say for example that Cagney's adds a new item to their already incredible menu. Within minutes they can easily update their menu section of the website as well as the downloadable PDF menu. Let's take it a step further and say that Cagney's also has some amazing high resolution images of this new menu item that they want to incorporate into website. With the powerful image apps found within the GoSystem, Cagney's can upload the full size image of the new food and it will be automatically reduced and optimized for web viewing. Then the image can be conveniently cropped for the appropriate placement on the website, such as the homepage slideshow, menu cover image or the menu header image. Some other great GoSystem apps include an easy to use gallery, contact form management, and even branded email blasts, all within the GoSystem.
Helping Newbies Find Cagney's on Google
Cagney's and Palm Tree realize that there are some residents of Quincy that don't already know about Cagney's, not to mention the out of town residents that are missing out on their delicious food and drinks. That is why Palm Tree employed extensive efforts to maximize the search engine visibility of the new Cagney's website. Palm Tree's GoSystem technology automatically produces relevant title tags, URL strings, and description tags and also gives Cagney's the ability to tweak these at their discretion. All these elements work together to help potential patrons easily find one of the best pubs in Quincy, MA, Cagney's.
Another Happy Palm Tree Client
"Our new website from Palm Tree is better than we could have ever imagined," states Cagney's owner. "I can't decide what I like best about it, the design that perfectly exemplifies the Cagney's atmosphere, the intuitive apps within the GoSystem, or how quickly they improved my search engine rankings. All I know is that Palm Tree has far exceeded my expectations and I would highly recommend them to anyone… except another Quincy bar because I like knowing I have the best website in town!"
To view Cagney's new website, visit www.CagneysQuincy.com.