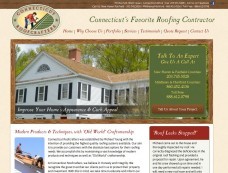 » CT Roofcrafters's home page
» Visit the website.
(WEST HAVEN, CT – April 2, 2012) West Haven-based Connecticut Roofcrafters has a long-standing reputation as one of Connecticut's favorite and most trusted roofing contractors. They rely heavily on modern products and techniques while employing the same "old world" craftsmanship that the success of their company was built upon. Owner Michael Young recognized it was time to employ some modern products and techniques of their own to revitalize their brand.
Young engaged Middletown-based agency, Palm Tree, to handle the rebranding and web development efforts. He asked that the new brand pay tribute to the "old world" craftsmanship aspect of their company while emphasizing their experience and reputation. As for the website, Young hoped for a dynamic, modern and invigorating user experience that showcased their extensive portfolio.
With Palm Tree's cutting-edge GoSystems 4.0 platform powering the new Connecticut Roofcrafters site, not only was Young's wish list met but it was greatly exceeded. Website visitors are greeted with a beautifully designed homepage that has great balance of modern and classic elements. Diving deeper into the website potential clients can view the conveniently organized portfolio of past roofing jobs, browse though testimonials from satisfied clients, and easily request a quote for their next roofing job. The GoSystem's true power is realized when Young or one of his employees logs into the content management platform. From the GoSystem, the staff can a easily update nearly every single aspect of the website without having to even look at a line of code. The platform empowers them with apps to update the homepage slideshow, track and respond to Quote Requests, add or reorganize portfolio items, and much more.
Palm Tree's work didn't stop when the website was finished. Being firm believers in brand consistency throughout all mediums, Palm Tree designed over 12 different pieces of print collateral for Connecticut Roofcrafters to help reinforce their new look. Everything from stationary to print marketing materials were covered including items such as business cards, signs, envelopes, NCR forms, and brochures, just to name a few.
"I was blown away by the work Joe and his team did for us," stated Young, "the GoSystem is a truly incredible sales tool for our company and we have gotten compliments literally every day since we started using the print items. I can't thank Palm Tree enough for truly changing the way we do business!"
To learn more about Connecticut Roofcrafters, we encourage you to visit www.ctroofcrafters.com.