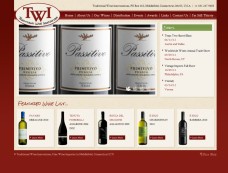 » Traditional Wine Innovations, LLC's home page
» Visit the website.
(MIDDLEFIELD, CT - June 21, 2012) Traditional Wine Innovations was born in 2008, but that was not owner Bonnie Williamson's first experience in the wine industry. In fact, she had her first introduction to the wine business at age 8, when she started making wine with her father Jack, a true veteran of the wine industry. Bonnie has been a wine enthusiast ever since and began selling wine in 2002. After working as an Italian wine importer and northeast regional manager for other organizations she decided it was time to work for herself again. Since then, TWI has prospered and is now operational in 11 states with their impressive portfolio of Italian wines as well as 3 states with their selection of wines from the prestigious Schug Carneros Estate. TWI prides themselves on being able to offer great wines at a fair price while providing exceptional service to their partners.
Taking TWI to the Web
With the continual growth of TWI, Bonnie knew that establishing a web presence was a long overdue step for her business. Middletown-based branding and web design agency, Palm Tree, was given the task of creating a powerful website for TWI that captured the essence of their brand and was capable of growing with their organization. As TWI continues to diversify their wine portfolio and distribution area, Bonnie wanted to ensure that she could easily add new brands, distribution areas, events, awards and more to the website without having to re-hire a web developer every time.
Palm Tree designed a website that is as playful as it is refined, which really speaks to the characteristics of TWI's founder, Bonnie. With color palettes of traditional deep reds and earth tones infused with bright green accents, traditional serif typography combined with handwritten typefaces, and great factual information about their wines blended with plenty of candid copy, the TWI website is an absolute pleasure to browse through. Website visitors can read about the extensive portfolio of wines available, learn about upcoming events, and even find a distributor close to their home. The true power of the TWI website is realized when Bonnie or her staff logs into their GoSystem, Palm Tree's proprietary content management platform.
The TWI Website is Infinitely Scaleable
With GoSystems powering TWI website, Bonnie is empowered with complete control over all her website content. With apps to manage each section, including the wine portfolio, the website is infinitely scaleable and ready to grow with TWI. When TWI starts importing a new wine, Bonnie can log onto her GoSystem and within a few shorts minutes she can fill in all the customized fields to add this new wine to the portfolio, upload a PDF sell sheet as well as images for both the main label and the bottle shot, which are then automatically resized and optimized for web viewing. Other apps allow Bonnie to add new events, awards, links and even new distribution areas, all without ever seeing a line of code.
Optimizing TWI for Google Relevancy
One of the biggest advantages of Palm Tree's GoSystem technology is that it automatically produces clean, dynamic, and relevant title tags, URL strings, and description tags for each and every page of TWI website. With the total control that the GoSystem provides, Bonnie and her staff also have the capability of tweaking these automatically generated SEO elements as they see fit.
Cheers to a Great Experience
"Working with Palm Tree has been nothing short of amazing," stated Bonnie, owner of TWI. "I felt from the very first meeting that Joe had a clear understanding of exactly what I was looking for in a website and the final product is perfect. My new site is so easy to manage, it looks great, and it really exemplifies the TWI brand. I can't thank Palm Tree enough for helping me taking my business to the next level!"