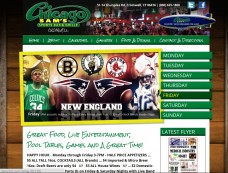 » Chicago Sam's's home page
» Visit the website.
(CROMWELL, CT - August 8, 2012) Chicago Sam's is not your traditional sports bar & grille, they offer a truly unparalleled experience. Their Cromwell, CT location is jam-packed with 10,000 square feet of pure sports bar entertainment including a 120 foot bar featuring over 22 seasonally changed draft beers, over 30 bottled beers, an extensive wine list and one of the best pub menus in all of Connecticut. With live entertainment, 3 pool tables, games, and over 80 TVs, Chicago Sam's is the perfect place to hang out with friends or catch the big game. With the location formally known as Rookies, Chicago Sam's owners knew they needed an awesome new website to complete the rebranding and establish both Chicago Sam's locations as the premier Connecticut sports bars.
Re-Designing the Chicago Sam's Print Menu
Website Re-Design in CT: Capturing the Chicago Sam's Atmosphere
Chicago Sam's of Cromwell strives to make each individual's visit to their bar a truly great time and it was important to their owners that the website capture that same atmosphere while providing potential patrons with all the information they could potentially want about upcoming events, menus, specials, etc. Middletown-based branding and web design agency, Palm Tree, approached the website project with the intention of creating a fun and interactive design that could be easily navigated for an all around great user experience.
The new Chicago Sam's website does exactly that. Visitors are greeted with a home page prominently featuring daily and weekly specials, upcoming events, and the latest flyers. Palm Tree also incorporated some truly unique elements such as an animated Chicago Sam's blimp featured upcoming big events, an interactive jukebox that enables visitors to listen to their favorite songs while browsing the website, and a convenient VIP sign-up form. When visitors start exploring the website, they can view a full event calendar, photo galleries and the full menu conveniently organized by category.
Fast and Easy Website Updates
In the bar and entertainment industry, specials and events can change at a moments notice. With Palm Tree's GoSystems 4.0 technology powering the new Chicago Sam's website, those changes can be updated on the website instantly. The GoSystem is a state-of-the-art content management system that empowers Chicago Sam's with tools that give them complete control over their website content. With custom apps for everything from the calendar to the homepage slideshow of specials, updates are easier than ever. Best of all, the GoSystem is specifically designed so that no prior technology or computer knowledge is required, it is a simple as logging in, accessing the app for the section you need to update and following the simple steps to add, edit or remove content of all shapes and sizes.
#1 on Google
One of the biggest advantages of Palm Tree's GoSystem technology is that it automatically produces clean, dynamic, and relevant title tags, URL strings, and description tags for each and every page of the Chicago Sam's website. Palm Tree also carefully crafted meta description and keywords for each page that Chicago Sam's can tweak at any time via the GoSystem. These SEO efforts have lead to truly fantastic results with Chicago Sam's currently coming up #1 for both "cromwell bar" and "cromwell sports bar" on Google (as of July 27, 2012).
"One of the Smartest Business Decisions We've Ever Made"
"Hiring Palm Tree to build our site was one of the smartest business decisions we have ever made," stated the owners of Chicago Sam's. "To put it simply, Joe and his team were incredibly easy to work with, our website looks great and we rank at the top of every Google search that we wanted to target. What more could you possible ask for from a web design company?"
To check out the new Chicago Sam's website, visit www.chicagosams.com.