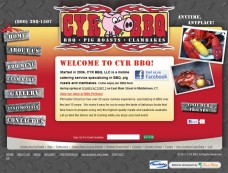 » Cyr BBQ's home page
» Visit the website.
If you live in or around Connecticut and haven't heard of Cyr BBQ, you're missing out! Chad Cyr of Cyr BBQ offers the BEST pulled pork, ribs, burgers, and more! Chad will come to your personal party or corporate event and provide a pig roast or clam bake – at a very reasonable price.
While Chad has always offered fabulous food, he hasn't always had the publicity his company deserves. Chad approached Joe D'Ambrose and the Palm Tree team in early 2009, with the problem of not having consistent branding. He needed a high quality logo, website, and other marketing materials.

Palm Tree's Art Director Spencer Mahar began by designing his eye-catching logo featuring a friendly pig and flames. We then designed and printed thick and glossy business cards before working on his website. Owner Chad Cyr explains, "The business cards I have from PTC are top notch. I will put cards on the buffet tables of the events my company caters and have had customers ask me if the cards are waterproof!"
The most important feature of Cyr BBQ's website is the online menu that also allows website visitors to place an order online for their special event. Visitors can enter the amount of each item they would like and the preferred date for their party. Chad will then contact them to finalize the details of the event. With prices right on the website, the total cost of the catering is no mystery! The website also offers testimonials from happy customers, photos of the food and of events, and much more. Since the new website went online in the summer of 2009, Chad's reputation has exploded and business has never been better!

Chad and his team also ordered custom embroidered polo shirts and hats from Palm Tree Creative, showcasing their now recognizable logo.
To further establish the Cyr BBQ brand, we designed postcards for him to use as thank you cards or for other correspondence. We also designed and printed vinyl banners to use at events.
Cyr BBQ recently partnered with Hair of the Dog Saloon, a bar on Main Street in Middletown, CT, to offer his food to late night bar patrons. Wouldn't you love a delicious order of wings after a late night out?

Chad now sells his prepared foods – ready to eat and packaged for your freezer, with custom made labels by Palm Tree Creative.

"Being able to have all my website design and hosting along with cards, banners, hats and shirts from one trusted place, lets me spend my time improving other parts of my business." – Chad Cyr