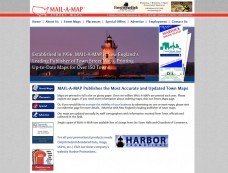 » Mail A Map's home page
» Visit the website.
(MADISON, CT – May 2, 2012) Madison-based Mail-a-Map, a division of Harbor Publications, has been working with Palm Tree since 2009. Established in 1956, they are New England's leading publisher of town street maps, printing up-to-date maps for over 150 towns.
With the emergence of Palm Tree's advanced GoSystems 4.0 content management platform, Mail-a-Map decided it would be an ideal time for a re-design of their website in order to take advantage of Palm Tree's new technology. Mail-a-Map wanted their new site to be a more modern version of their existing site with clean design elements, a completely new interface for visitors to select the maps they wanted, and a more streamlined user experience.
With the GoSystem CMS platform at the helm, the new Mail-a-Map website is packed with powerful features that provide a very intuitive user experience for both website visitors and the Mail-a-Map staff responsible for managing the website content. Website visitors can now browse available city and town maps through an interactive map of Connecticut and surrounding states, view and download examples of advertising-supported placemats from local restaurants, and view all current specials. Due to the fact that the town maps are frequently updated, it was extremely important that the update process be fast, simple, and effective for the Mail-a-Map staff. Palm Tree created a GoSystem app to specifically meet their needs and with a few clicks of the mouse, the staff can replace outdated maps with current versions without so much as looking at a line of code.
"At Palm Tree, we believe in continually improving our client's websites and helping them grow with our creative technology solutions," stated Palm Tree principal, Joe D'Ambrose. "Mail-a-Map has been a loyal client of Palm Tree and I am especially proud of their new website that showcases the true power of database-driven content."
"After more than three years with Palm Tree they proved that they can still impress us! Our new website is more powerful, better looking, and incredibly intuitive. Joe and his team have really outdone themselves with this new evolution in content management and search engine optimization," stated Matt Holmes, Mail-a-Map's owner.
Please visit www.mailamap.com to learn more about all the great town maps they have available.