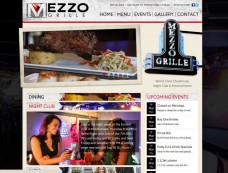 » Mezzo Grille's home page
» Visit the website.
(MIDDLETOWN, CT - March 16, 2012) Palm Tree is proud to announce the launch of Mezzo Grille's new website!
Mezzo is a multi-venue experience in Middletown, CT touching all the senses — an American Fusion restaurant and bar, featuring a 10' Video Wall, Chophouse style menu, bar menu and custom made desserts. Mezzo also features a Comedy and Night Club on the second floor with an outdoor balcony.
Bill Fox Sr., a founding partner at Mezzo Grille, approached Middletown-based web design agency, Palm Tree, for website redesign services with hopes of creating a modern and engaging web presence to attract new and existing patrons. Key elements of the new site were ease of use, compatibility on mobile phones and tablets, Google friendly content, an up-to-date calendar of events, and an easy to read menu.
"Joe and his team of professionals impressed me from day one. Their design showcases our unique atmosphere, and we couldn't be more pleased with the overall design, ease-of-use, and accessibility of the new site," stated Fox.
Palm Tree's own cutting-edge content management platform, GoSystems 4.0, allows Chef Steve to easily update the site's menu, calendar of events, photo gallery, and all image and text elements on the site.
To learn more about Mezzo Grille, explore their new web site at www.mezzogrille.com.