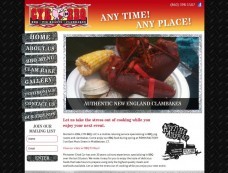 » Cyr BBQ's home page
» Visit the website.
(MIDDLEFIELD, CT - March 1, 2012) Started in 2006, Cyr BBQ is a mobile catering service specializing in BBQ, pig roasts and clambakes. Pitmaster Chad Cyr has over 20 years culinary experience, specializing in BBQ over the last 10 years.
In 2009, Chad collaborated with Palm Tree to design and develop his brand image. For the next 2 years, the world of web browsing has evolved quite a bit. Now, in Spring of 2012, nearly 5 times the traffic is coming from mobile devices compared to statistics from early 2010. Pitmaster Chad Cyr realized that he would need to modernize his web site for mobile viewers. Furthermore, elements of the site needed to be converted to real text rather than images, for Google to be able to read and index better. We used Google Web Fonts technology to achieve real text while still maintaining the same Stencil font family.
The real selling point on a website overhaul was GoSystems 4.0 - Palm Tree's customized, easy to use web app platform for content management. With GoSystems powering the site, Chad has total control to update his pictures, website content, and menu... any time, any place! Every aspect of the website -- the menu, photo galleries, testimonials, links, homepage slideshow, etc. -- are each powered by a custom web app. Another unique benefit of the platform is continuous technology, usability, and security upgrades as Palm Tree's cutting-edge centralized technology continues to evolve.
The new site -- launched on March 1, 2012 -- has already resulted in an increased number of web inquirie through their contact form. If you're in Connecticut and looking to host a clambake or pig roast this summer, check out Cyr BBQ.