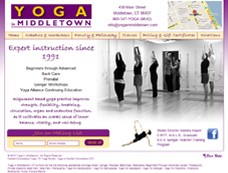 » Yoga in Middletown's home page
» Visit the website.
(MIDDLETOWN, CT – January 20, 2012) During 2011, Connecticut-based branding and web design agency Palm Tree Creative had the pleasure of designing the Yoga in Middletown website for owner Sandra Kopell. In an effort to continually empower their clients with custom business management tools, Palm Tree integrated their proprietary GoSystems 4.0 Platform for managing website content, search engine optimization, and email marketing.
Yoga in Middletown is a yoga studio offering expert instruction in a variety of yoga practices for all health and skill levels. This Central Connecticut studio is owned and operated by Sandra Kopell, who played an integral role in the development of her website. Following Sandra's vision for the look and feel of the website, Palm Tree created a convenient user experience that enabled visitors to learn about the studio's philosophy and staff, browse available classes and the upcoming schedule and even sign up for workshops or buy gift cards.
With the recent integration of Palm Tree's GoSystem 4.0, the website is now even better optimized for search engines and gives Sandra more control over her business with a bunch of new GoSystem apps. With the Bradley Hand font that is used throughout the website now installed on the server, the navigation and headings are now real text as opposed to images. Although this may seem like a small change it improves load times and helps search engines like Google read those text elements which in turn improves Yoga in Middletown's search engine rankings.
One of the most useful new apps within the GoSystem platform allows Sandra to create and send branded emails. Prior to GoSystems 4.0, the email addresses that Sandra collected via the website were exported to a third party mass email platform (i.e. iContact, ConstantContact, etc.). With the new email app, Sandra can now send beautiful branded emails using a template designed by Palm Tree to her entire email database or specific email lists all from one place.
Sandra Kopell had this to say about the recent GoSystem upgrade, "Joe and his staff would likely be the first to tell you that I am definitely not a computer expert, but the best part about my website and the new GoSystem is that I don't need to be. They have developed a system that allows me to very easily update my website, manage my contacts and send mass emails to my subscribers. I couldn't be more satisfied with the work Palm Tree has done for my business."
Check out all the classes and workshops available at www.yogainmiddletown.com.