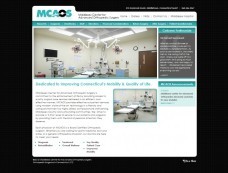 » Middlesex Center for Advanced Orthopedic Surgery's home page
» Visit the website.
(MIDDLETOWN, CT – May 1, 2012) Located in Central CT, Middlesex Center for Advanced Orthopedic Surgery provides effective outpatient services using modern, state-of-the-art technology in a friendly and caring environment by highly skilled, compassionate staff. Serving Middlesex County and surrounding communities, MCAOS is licensed by the State of Connecticut as an Ambulatory Surgical Center, certified by Medicare and accredited by the Accreditation Association for Ambulatory Health Care (AAAHC).
After designing their website this year, Palm Tree is pleased to showcase the new facility, which is owned by Middlesex Hospital and Orthos Holding Company, LLC.
MCAOS approached Palm Tree with an interest in creating an informative, easy-to-navigate website for patients to use - as they prepare for their surgery, as well as discharge instructions for after their procedure. Palm Tree built the new website around its cutting-edge CMS platform, which allows MCAOS staff to quickly and easily edit the site's content as needed, with no downtime. And with its clean, professional design and intuitive navigation system, the new website gives MCAOS a useful resource to offer its patients.
Features of the site include a photo gallery, surgeon bios, anesthesiologist bios, directions to the facility, frequently asked questions, announcements, a patient questionnaire, patient testimonials, before-surgery information, and after-surgery instructions.
"MCAOS has built a really impressive facility for its patients and is staffed by a top-notch team of professionals," said Joe D'Ambrose, Creative Director at Palm Tree. "Our content management platform is continuously evolving, and contains the ability to grow and evolve according to the MCAOS' needs. It was a great fit right from the start."
Learn more about MCAOS today by visiting the new website, www.MCAOS.com.