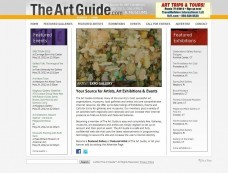 » The Art Guide's home page
» Visit the website.
(TRUMBULL, CT – May 30, 2012) The Art Guide is unique website that combines many of the country's most successful art organizations, museums, local galleries and artists into one comprehensive internet resource. They provide up-to-date listings of Exhibitions, Events and Calls for Entry for galleries and museums and give artists and galleries a free way to increase their exposure. When new owner Mary Kee acquired The Art Guide in 2012, she reached out to Palm Tree to learn more about her new website and knew right away that she wanted to upgrade to the GoSystems 4.0 platform and take advantage of all the cutting-edge apps that came with it.
Due to the distinctive setup of The Art Guide website, the GoSystem is not only used by the staff but also by the website's members. As new members join the website they are given access to the GoSystem apps that allow them to manage their profiles and portfolios. Mary Kee knew that she wanted the revamped website to make this process as simple and convenient as possible for her members. Through careful planning and design, Palm Tree created specific apps to meet Kee's requests. The result is a user-friendly interface that allows The Art Guide's members to manage their accounts with little to no support from The Art Guide staff. This allows The Art Guide to focus their efforts on growing their member base and increasing advertising revenue, instead of providing technical support.
"Of all the existing clients of Palm Tree, I felt that The Art Guide would benefit most from the GoSystem 4.0 platform because of their large number of users," stated Palm Tree principal, Joe D'Ambrose. "We specifically designed the member apps to be as intuitive as possible and based on the feedback from Mary Kee and The Art Guide members, they seem to be loving them!"
"When I took over The Art Guide I was already very pleased with the way the website functioned," stated Kee, "but the benefits of the new GoSystem seemed like they would make an already great user experience that much better for our members. Upgrading to new GoSystem proved to be a huge win for our members who absolutely love the new apps they use to manage their profiles."
To learn more about The Art Guide, we encourage you to visit www.theartguide.com.