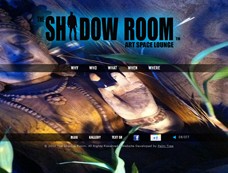 » The Shadow Room's home page
» Visit the website.
(MIDDLETOWN, CT – December 21, 2012) Palm Tree is proud to help The Shadow Room kick off the New Year with a technology update and a new content management system, GoSystem 4.0.
The Shadow Room, located in Middletown, CT, is one of the city's premier destinations for delicious cocktails, tasty food, amazing art and great music. Whether you are looking for an afternoon bite to eat or want to host your next big party, The Shadow Room has it all. Their experienced and creative staff of mixologists, entrepreneurs and artists has created an "Art Space Lounge" unlike any other in Central Connecticut.
Owner Nick Cacaci has collaborated with Palm Tree on their website and print collateral for years. The Shadow Room website is an important extension of their business and Nick wanted the site to communicate the atmosphere that you would experience when visiting The Shadow Room. The sleek and modern designed website now has the technology to back its appearance with the integration of Palm Tree's GoSystem 4.0.
"Having been a satisfied client of Palm Tree for years I was excited to see what enhancements the GoSystem 4.0 system offered, but I had no idea it was going to be this big of an update," commented Nick. "The new GoSystem gives us total control over our site and has numerous features that the previous version did not have."
With GoSystem 4.0, The Shadow Room now has the ability to modify virtually every aspect of their site with a few clicks of the mouse. One feature unique to The Shadow Room GoSystem is an app that enables them to assign specific background images for each individual page of the website. With the arsenal of beautiful photography that The Shadow Room has this app has proved to be one of Nick's favorite features of the new CMS. Another neat app allows Nick to conveniently updated his staff bios and even add new employees.
"I have always been impressed by Palm Tree's work, but Joe and his team have really outdone themselves with the new GoSystem, I can't imagine not having this as part of my website," stated Nick.
Next time you find yourself in Middletown, CT swing by The Shadow Room and in the meantime check them out online at www.shadowroomct.com.