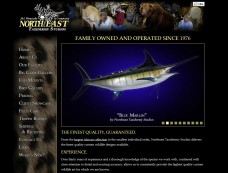 » Northeast Taxidermy's home page
» Visit the website.
(MIDDLETOWN, CT – July 16, 2012) Middletown-based Northeast Taxidermy is one of the country's most respected and recognizable taxidermy studios. Family owned and operated since 1976, owners Joe & Lowrey Pitruzzello have grown their business into the largest full service taxidermy studio in the Northeast by delivering superior quality for game of all sizes from small birds to large elephants. Northeast Taxidermy was also featured on the Discovery Channel show Taxidermy USA in 2011.
Northeast Taxidermy was one of Palm Tree's early clients, having enjoyed a 4-year relationship to date. We have had the pleasure of working with the Pitruzzello family and continually evolved their website along with their business over the years. With the release of GoSystems 4.0, Palm Tree's website management platform, we knew it was time for a complete technology overhaul of the Northeast Taxidermy website so they too could take advantage of all the great apps that are included in Palm Tree's content management, email marketing and search engine optimization platform.
New Content Management & Email Marketing Apps
With the Northeast Taxidermy website averaging over 50,000 page views every month, the Pitruzzello's are always needing to update their galleries, client showcases, and the homepage slideshow to keep the website content fresh and feature new work. Palm Tree created unique apps that allow Joe, Lowrey, or one of their staff members to easily upload an image to any of those sections and then the GoSystem takes care of the rest--cropping to the appropriate size, optimizing for the web, and reducing the file size for faster downloading. These apps along with other content apps for links, news, and pricing allow the staff of Northeast Taxidermy to spend less time updating their website and more time creating beautiful works of taxidermy art for their clients.
Aside from the content driven apps, the GoSystem also streamlined Northeast Taxidermy's website communication. The Pitruzzello's are able to easily ready and respond to contact requests and orders directly from the GoSystem, ensuring that they never miss an email or an order. With an ever growing email list that currently has close to 2,000 subscribers, the Pitruzzello's no longer have the need for a service like iContact or Constant Contact because the GoSystem automatically creates a database of their email subscribers and empowers Northeast Taxidermy with an easy to use mass email app that allows them to send out branded emails to their entire subscriber list with just a few clicks of the mouse.
Increased Organic Search Engine Visability & Relevancy
While the content management apps simplify and reduce the time Northeast Taxidermy spends on website maintenance, some of the most cutting edge technology is found in the GoSystem's search engine optimization components. One of the most significant advantages of Palm Tree's GoSystem technology is that it automatically produces clean, dynamic, and relevant title tags, URL strings, and description tags for each and every page of the Northeast Taxidermy website. Palm Tree believes in empowering our clients which is why we didn't stop there and give GoSystem users total control and the ability to tweak these SEO elements without ever so much as looking at a line of code. The SEO results truly speak for themselves, with Google Analytics embedded into the GoSystem, Joe & Lowrey can monitor their traffic and see that in the last 30 days (as of July 19, 2012) they had 4,533 unique visitors and 53,118 page views. #1 organically on Google for "striped bass mounts", "elephant mount", and literally of other phrases - mostly animal species.
Palm Tree Never Ceases to Amaze the Pitruzzelo Family
"Over the years, Joe and his staff have helped us grow Northeast Taxidermy by building us a great website," stated owner Joe Pitruzzello, "but what is truly incredible is Joe's desire to continually improve everything he does. The new and improved GoSystem is nothing short of amazing, it makes everything from updating the website to managing our orders easier. I am proud to say after many years of business with Palm Tree, they still continue to impress me!"